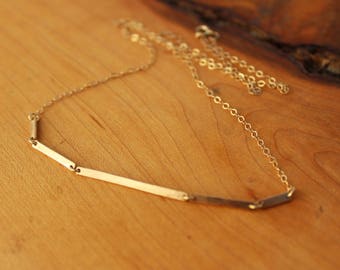 solid gold necklace from
Etsy
Solid gold jewelry is the highest in price and purity. Solid gold's value comes from its radiant color and shine. It is also highly valued because it doesn't tarnish or fade with time. But it is interesting to note that solid gold may not always be the best option when shopping for your desired gold accessory. The downside of pure solid gold is that is a very malleable and soft and is therefore not recommended for jewelry intended for everyday wear.
Often gold is made into an alloy by mixing it with other metals in order to create a stronger metal than pure gold. These alloys are often cheaper than pure gold as the carat (the measure of the purity of the gold) decreases. However, these alloys retain the desirable properties that jewelry wearers desire of pure solid gold- its shine, color, and inability to tarnish- all while creating a more practical metal for jewelry.
When purchasing jewelry a more economical than solid gold but still beautiful option is a gold filled piece. Jewelers create gold filled jewelry by pressure bonding an actual layer of gold to another metal. Although a gold filled piece of jewelry is not sold gold, it has the same desirable properties and look of solid gold.
It won't tarnish and will not rub off or turn colors. Wearers who are sensitive to certain metals can wear gold filled without worries of an allergic reaction. Although the layer of gold in gold filled pieces varies depending on the manufacturer it is in all cases significantly thicker than regular gold plating (the next category of gold jewelry). Gold filled accessories can be worn even daily without fear of fading or rubbing off for many cases as long as 30 years.